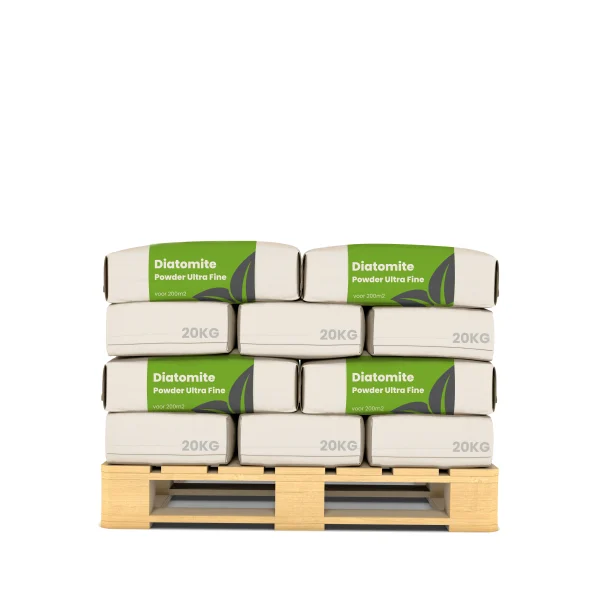 Diatomaceous Earth – 100% Pure – Ultra Fine Powder (50 bags = 500 kg)
✔ 100% pure and natural white diatomaceous earth
✔ Suitable for both indoor and outdoor use
✔ Operates on a mechanical basis without the use of harmful chemicals
✔ Helps prevent unwanted damage from insects
✔ Enhances soil structure as well as trace elements and nutrients
✔ Contributes to the reduction of harmful bacteria and pathogens
✔ Safe for humans, animals, and the environment, and contains no harmful or toxic chemicals
✔ Easy and efficient to use
✔ A versatile product that offers a natural alternative to chemical pesticides.
Kies uw formaat:
999,00
Description
It is widely recognised that natural diatomaceous earth serves as a safe and effective method to combat various types of pests, including ants, silverfish, wasps, bedbugs, booklice, fleas, lice, mites, cockroaches, woodlice, red mites, bird mites, aphids, flour moth larvae, fungus gnats, thrips, and other harmful insects. Organifer Diatomaceous Earth is versatile, entirely natural, odourless, and suitable for both indoor and outdoor use.
Diatomaceous earth operates on a mechanical process where microscopic particles pierce the protective wax layer of insects, causing them to dehydrate and perish. However, it's crucial to note that diatomaceous earth is not selective and can kill any insect that comes into contact with it, including beneficial insects. Hence, it's essential to apply the powder judiciously to avoid unwanted harm. It remains effective as long as it's dry and undisturbed. Diatomaceous earth is harmless to humans and animals, often making it a preferred alternative to chemical pesticides.
Beyond pest control, diatomaceous earth can also serve as a soil enhancer in agriculture and horticulture. Adding diatomaceous earth to the soil can improve its structure, promoting better drainage and aeration, resulting in enhanced plant growth. Diatomaceous earth also contains trace elements and nutrients essential for healthy plant growth, such as silica, calcium, and magnesium. Furthermore, it can help regulate the soil's pH level and reduce the presence of harmful bacteria and pathogens. The outcome is healthier plants with higher yields and better crop quality.
Organifer Diatomaceous Earth is 100% pure and ecologically responsible. It's safe for people, animals, and the environment, free from harmful or toxic chemicals, and entirely GMO-free.
In summary, Organifer Diatomaceous Earth is a versatile product that offers a natural alternative to chemical pesticides and can act as a soil enhancer for plants. It's an ecologically responsible choice for those seeking a safe, natural, and effective solution.
Usage Instructions
Sprinkling:
▶ Evenly distribute the powder over the surface to be treated, repeating if necessary or when the powder becomes damp.
Spraying:
▶ For hard-to-reach places, a sprayer can be utilised. Mist the powder onto the desired surface.
Dissolving in water:
▶ Dissolve 20 grams of powder in one litre of water. Spray this mixture onto the intended surface, shaking regularly to prevent lump formation.
Soil Improvement:
▶ Incorporate 1 kg per 10 m² into the soil.
Caution: Diatomaceous earth has strong moisture absorption and may cause eye and throat irritation. It's essential to avoid contact with the mouth or eyes. Always wear a dust mask and goggles to prevent irritation and avert dust generation.
Specifications
Bulk Density, 300.0 kg/m3
Moisture Content, 2.0 %
Mohs Hardness 1.0
Loss on Ignition (1025°С), % 8.5
Specific Weight, g/cm2 2.0
pH (10% suspension) 7.0
Composition:
SiO2 88 %
Al2O 3 5%
Fe2O3 2.5%
Particle size in μm
< 2 = 6.1%
2 – 5 = 14.1%
5 – 10 = 22.7%
10 – 20 = 33.1%
20 – 45 = 23.9%
> 45 = 0.1 %
Storage
This product retains its quality for up to 2 years when stored in a cool and dry location, away from direct sunlight.
Additional information
| | |
| --- | --- |
| Weight | 400 kg |
| Dimensions | 120 × 100 × 120 cm |