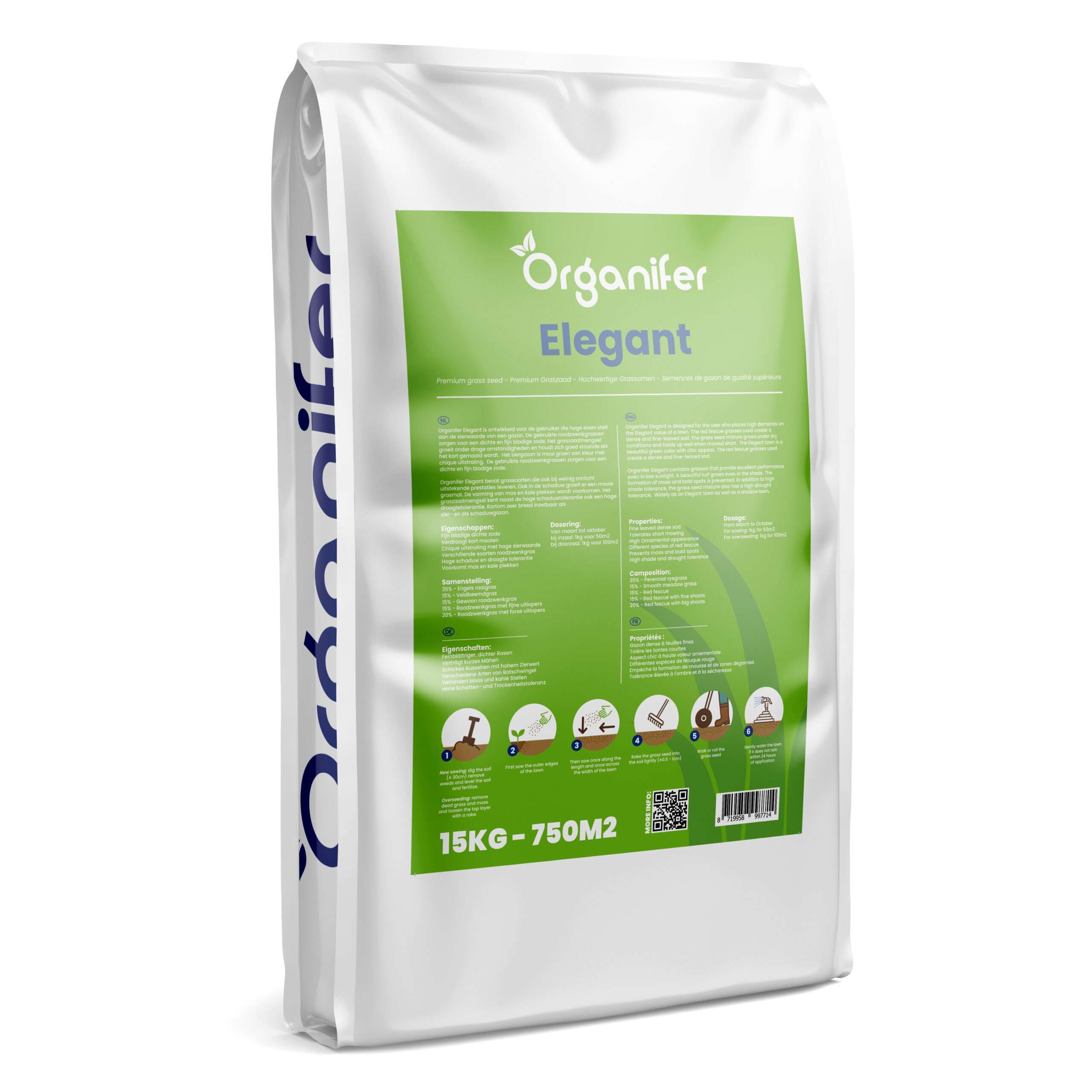 Shadow Lawn Grass Seed – Elegant (15 kg for 750 m2)
✔ High shade and drought tolerance
✔ Ideal for laying or repairing a lawn situated in shade
✔ Very fine turf (comparable to British lawns and grass seed mixes)
✔ Manageable maintenance with somewhat extensive character
✔ Seamlessly integrates with existing grass (turf) mat
✔ Extremely high aesthetic value due to fine-leaved grasses
✔ Highly adaptive and successful, making it suitable for all soils and scenarios
✔ Also apt for lawn renovation/overseeding of decorative lawns
✔ Suitable for mulching and robots
✔ Quick germination and establishment
✔ Professional Dutch NAK-certified grass seed mix
Kies uw formaat:
169,95
Description
Shadow Lawn Grass Seed – Elegant is ideal for laying or restoring a lawn that's in the shade.
Shadow Lawn Grass Seed – Elegant is crafted for users who place high demands on the aesthetic value of a lawn. The red fescue grasses used yield a dense and fine-leaved sward. This professional grass seed mix grows well even in the shade. Moreover, it's well-suited for dry conditions and remains sturdy when mowed closely. The decorative lawn boasts a lush green hue with a posh appearance. The utilised red fescue ensures a dense and fine-leaved sward.
Achieve a Perfect Lawn Even in the Shade
Shadow Lawn Grass Seed – Elegant incorporates grass types that deliver excellent results even with limited sunlight. It guarantees a splendid grass cover even in the shade, preventing moss formation and bare spots. This grass seed mix not only boasts high shade tolerance but also impressive drought resistance. In essence, it's highly versatile as both a decorative and shadow lawn.
The Professional Lawn Solution for Gardeners, tailored specifically for demanding users in gardens and parks. Through refined use of red fescue and fine-leaved ryegrass, an aesthetically pleasing result is achieved. A high success rate on all soils and easy to maintain. The highest quality grass seed in the market with robust germination potential. Quickly establish a stunning decorative lawn. It withstands foot traffic well and is quite resilient. Furthermore, the grass possesses sublime aesthetic value and is straightforward to maintain. Numerous gardeners consistently opt for Organifer grass seeds due to their rapid emergence and establishment, impressive regrowth ability, and classy appearance.
The Prime Choice Among Shade Lawns
Exceptionally suited for decorative lawns and ornamental gardens. This mix, often referred to in practice as a decorative or shade lawn, is primarily composed of slow-growing grass species and varieties that retain their dark green hue throughout the year, making the grass low-maintenance. Shadow Lawn Grass Seed – Elegant adapts well in shaded areas, forms a cohesive turf, and can be mowed closely.
Features
✔ High shade and drought tolerance
✔ Perfect for establishing or restoring a lawn in the shade
✔ Extremely fine turf (comparable to British lawns and grass seed blends)
✔ Manageable upkeep with a somewhat extensive nature
✔ Flawlessly matches existing grass (turf) mat
✔ Exceptional aesthetic appeal due to fine-leaved grasses
✔ Highly adaptable with strong success rates, making it applicable to all soils and conditions
✔ Also suitable for lawn renovation/overseeding of ornamental lawns
✔ Compatible with mulching and robots
✔ Rapid germination and growth
✔ Professionally Dutch NAK-certified grass seed mix
NAK-certified
Organifer Grass Seed is carefully crafted and Dutch NAK-certified, ensuring quality. Organifer demands high germination and particularly purity in quality aspects to maximise seed sprouting. We guarantee the best base material for a perfect turf foundation.
Dosage
For sowing: 1 kg for 50 m²
For overseeding: 1 kg for 100 m²
Mowing Height
3- 4 cm.
Composition
35% Perennial ryegrass
15% Velvet grass
15% Common red fescue
15% Fine creeping red fescue
20% Strong creeping red fescue
->Decorative Lawn – Shade Lawn
Application
Shadow Lawn Grass Seed – Elegant is suitable for all soils.
Steps for Sowing Grass
1) Rotavate the soil or dig it up (around 25 cm), remove weeds, and level the ground. If desired, apply soil enhancers before sowing.
2) Begin by sowing the outer boundaries with Shadow Lawn Grass Seed – Elegant
3) Proceed to sow crosswise once lengthwise and once breadthwise over the entire surface using Shadow Lawn Grass Seed – Elegant
4) Lightly rake in the grass seed (0.5 – 1cm)
5) Tread or roll over the grass seed
6) Water gently with fine droplets if it doesn't rain within 24 hours post-sowing.
7) When the grass reaches approximately 10 cm in height, it's time for its inaugural mow. Don't mow it too short immediately, but gradually reduce the length each week to about 3-4 cm.
8) Fertilise the lawn for the first time a week post-emergence with "All-In-One Lawn Fertiliser" and then thrice yearly (spring/summer/autumn).
Sowing Period
Sowing Period March – November
Sowing in Early Autumn
Early autumn is a splendid time to sow grass, as the soil retains the summer warmth for a while. This warmth coupled with ample moisture provides a perfect environment for grass seeds to sprout. Sowing can usually commence post the summer's driest and hottest stretch, often in September, but potentially in October too.
Sowing in Spring
Spring is also a viable time to sow grass, albeit slightly less ideal than early autumn due to soil temperature. The typically cold winter and chilly nights can make seed germination challenging. Birds might easily pilfer the seeds during this period. Additionally, a surge of weeds is common. Removing deep-rooted weeds from your lawn can be a challenge. We advise sowing in spring roughly from late March through the end of May to ensure the soil is adequately warm for grass growth, whilst circumventing dry spells.
Additional information
| | |
| --- | --- |
| Weight | 15 kg |
| Dimensions | 60 × 40 × 20 cm |