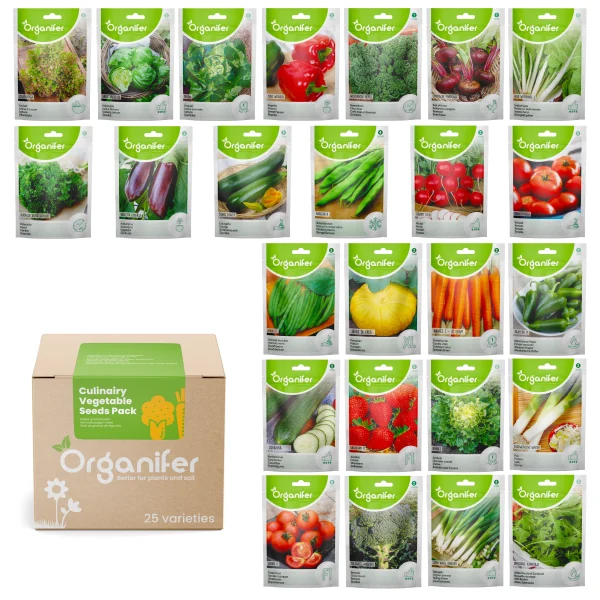 Vegetable Seed Packet – 25 Culinary Varieties
✔ Contains all the culinary vegetable varieties essential for the allotment
✔ Savour fresh and delectable vegetables straight from your very own garden
✔ Seeds are rigorously tested for quality and germination to guarantee an optimum harvest
✔ Vegetables that are easy to cultivate, even for budding gardeners
✔ A bountiful yield is assured with an extensive array of seeds from 25 culinary vegetable varieties
✔ Exclusively contains Non-GMO seeds
✔ Seeds are untainted by chemical treatments
✔ Whip up delicious and nutritious meals with our meticulously chosen vegetable varieties
✔ Revel in the satisfaction of cultivating your own vegetables
✔ A superior selection of varieties registered in the Netherlands
49,95
Description
Would you like to enjoy fresh and healthy produce, straight from your own garden? Then this Vegetable Seed Pack is precisely what you need!
This seed pack contains a carefully selected collection of culinary vegetable varieties suitable for any kitchen garden. Each seed variety has been hand-picked based on its ease of growth and suitability for various seasons, ensuring a bountiful harvest. The seeds are packaged in convenient packets, making it easy to store and organise your collection.
In addition to the seeds, our pack includes comprehensive descriptions on each packet. Here, you'll find handy tips on soil preparation, harvesting, and storage. This information makes it easy for both novice and seasoned gardeners to get the most out of their kitchen garden.
At Organifer, we place great importance on the health and safety of our customers and the environment. Therefore, our seeds are free from chemical treatments and only contain varieties registered in the UK, which are non-genetically modified (Non-GMO). Rest assured, you're receiving high-quality, healthy, and safe seeds.
With our Vegetable Seed Pack, you can create your own kitchen garden paradise and savour delicious, fresh vegetables.
25 Culinary Vegetable Seeds:
This Vegetable Seed Pack contains a carefully curated collection of 25 culinary vegetable varieties suitable for various seasons and easy to grow. You'll receive the following culinary vegetable seeds:
Strawberry Grandian F1 (approx. 20 seeds)
Endive Nuance (approx. 1 gram)
Aubergine Violetta lunga 2 (approx. 2 grams)
Beetroot Egyptian Platronde (approx. 5 grams)
Cucumbers Johanna (approx. 1 gram)
Broccoli Calabria natalino (approx. 1 gram)
Kale Westland Autumn, late type (approx. 3 grams)
Pepper Yolo Wonder (approx. 1.5 grams)
Chilli Pepper Jalapeño M (approx. 2 grams)
Parsley Curled Dark Green (approx. 5 grams)
Pumpkins Jaune de Paris (approx. 4 grams)
Leek Blue-green Winter (approx. 2.5 grams)
Radish Cherry Belle (approx. 10 grams)
Wild Rocket (approx. 2 grams)
Lettuce Milan (approx. 0.75 grams)
Iceberg Lettuce Great Lakes 118 (approx. 2 grams)
Curly Lettuce Lollo Rossa (approx. 2 grams)
Swiss Chard Blonde A Carde Blanche – Yellow White-ribbed 2 (approx. 5 grams)
Cluster Tomatoes Serrat F1 (approx. 10 seeds)
Tomatoes Moneymaker (approx. 2 grams)
Spring Onion Kyoto Market (approx. 2 grams)
Carrots Nantes – 2 Medium (approx. 6 grams)
Courgette Black Beauty (approx. 5 grams)
Pole French Beans Raadsheer, Veense type (approx. 25 grams)
Dwarf French Beans, Chinese beans Miracle (approx. 25 grams)
Features
✔ Contains all culinary vegetable varieties for the kitchen garden
✔ Enjoy fresh and tasty vegetables straight from your own garden
✔ Seeds have been quality tested for germination to ensure maximum yield
✔ Easy-to-grow vegetables, even for novice gardeners
✔ An abundant harvest is guaranteed with a large number of seeds from 25 culinary vegetable varieties
✔ Contains only Non-GMO seeds
✔ Seeds are free from chemical treatments
✔ Prepare delicious and healthy meals with our carefully selected vegetable varieties
✔ Experience the satisfaction of growing your own vegetables
✔ A premium selection of UK-registered varieties
Storage
Store seeds in a cool and dry location to maintain germination and viability. Protect the seeds from moisture, light, and high temperatures by storing them in an airtight container or envelope in a dark and cool place, such as a cupboard, drawer, fridge, or freezer. This ensures your seeds remain in optimum condition and can be used for several seasons.
Additional information
| | |
| --- | --- |
| Weight | 1 kg |
| Dimensions | 10 × 2 × 15 cm |